Valve Solutions for Semiconductor Industry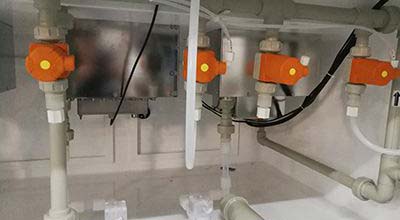 KOSCN manufactures and provides valves and piping systems that meet the specific needs of the semiconductor manufacturing industry.
KOSCN MV300 series pneumatic diaphragm valves, PPH and PVDF piping system can be used in ultrasonic cleaning equipment for removal of impurities and particles on the wafers and they surpass the competiors with reduced cost and improved stability.
DV310 pneumatic diaphragm valve features long lifespan and meets the requirements of FDA 177-1520/177-1550 dissolution test, which can be used to satisfy flow control needs in semiconductor manufacturing field for corrosion cleaning (removal of impurities on wafer), pure water transport, and chemical solvents transport including phosphoric acid, hydrofluoric acid, hydrochloric acid, nitric acid, sodium hydroxide, etc.
Application examples
---
Other applications