Plastic Valves for Landfill Leachate Industry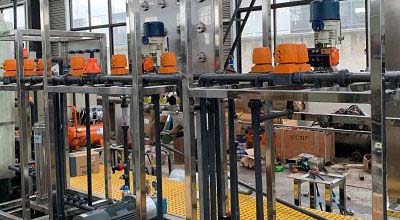 Leachate from landfills causes a significant threat to surface water and groundwater. The presence of high COD concentration, pH, ammonia nitrogen and heavy metals will have to be neutralized before the leachate can be discharged. Disc Tube Reverse Osmosis (DTRO) Membrane technology is one of methods to concentrate leachate wastewater and the concentration efficiency reaches up to 75%.
The leachate first comes into the sand filter where the work pressure is about 3 bar. KOSCN diaphragm valves can be used in this process to withstand corrosive leachate and allow the tiny particles in leachate to pass through. After sand filtration, the leachate will flow through the single/double stage DT membrane system and circulate repeatedly until the concentrated wastewater meets the discharge standard. Corrosion-resistant and clogging-proof valves are needed in leachate sand filtration, leachate concentration, and disposed water discharge process and KOSCN MV302, MV303 plastic diaphragm valves, PV710 pressure regulating valves can perfectly satisfy these needs.
Application examples
---
Other applications