Pressure Regulating Valves, PV710
Plastic Pressure Relief Valve (PRV)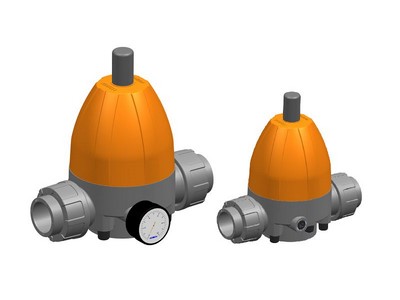 KOSCN PV710 pressure regulating valve (PRV) is mainly used for upstream pressure regulating, pressure fluctuation balancing and pressure peak decreasing. The pressure regulating valves are usually installed in the branch pipe that is connected to the main pipeline and they can function as safety valves, also called pressure release valves. For required backpressure application, the pressure regulating valves can be mounted in the main pipeline as counterbalance valves, also called overflow valves.
Contact Us
---
Specifications
Medium wetted parts

PVC-U, PPH, PVDF, SUS

Seal

EPDM, FPM

Connection

flange, spigot, true union (socket or spigot)

Connection standard

DIN, JIS, ANSI

The connection port for instrument allows connection with pressure gauge and pressure sensor.

The working pressure can be preset as required before delivery.
---
Features
Easy operation and maintenance
Full plastic housing design for aesthetic appearance and high corrosion resistance
Easy installation and maintenance free
Connection ports in compliance with DIN 8063 standard
Allows pressure regulating in any time
Outstanding safety
Work pressure up to 10 bar
Efficient pressure fluctuation balancing and pressure peak decreasing
Insert-molded stainless steel threaded socket connection to meet different installation strength requirements
Strengthened PTFE diaphragm ensures higher pressure bearing capacity
---
Application
Landfill leachate treatment
Water piping system
Waste water treatment
Power industry
Semiconductor
Chemical engineering industry
Papermaking
Bio pharmacy
Mining & metallurgy
Food & beverage
New energy and new materials
Building A2, Hengli Industrial Park, Tongde, Baolong Sub-District, Longgang District, Shenzhen City, Guangdong Province, China
Shengzhou Zhang
KOSCN is a professional manufacturer of flow control products. Our product range includes plastic valves, pneumatic actuators, pressure sensors and piping systems. We offer industrial plastic valves in various sizes, of different materials and for different pressure ranges, guaranteeing the right valve for any piping system. Manual, pneumatic, or electric actuators for valves are optional to best fit your application requirements.
Our plastic valves and piping systems are good low-cost solutions for flow control needs in various applications, including waste/wastewater disposal, chemical processing, metallurgy, landfill leachate processing, integrated circuit manufacturing, semiconductor manufacturing, glass panel processing, food and beverage, paper making, power industry, bio pharmacy and more.
KOSCN has obtained multiple patents and is a national high-tech enterprise. We have professional teams for product design and development, manufacturing, mold production, injection molding and quality control. Our quality management system is in strict accordance with ISO9001, ISO140001, ISO45001 to ensure the excellent reliability and outstanding durability of products.