Pneumatic Actuator, PA100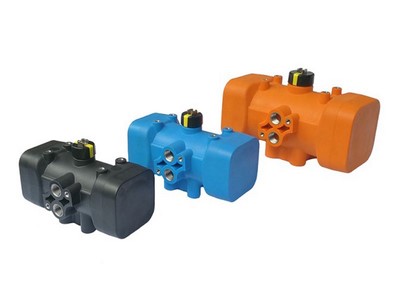 KOSCN pneumatic actuator PA100 features full plastic housing, part-turn pneumatic actuation mechanism, and optimized construction. Featuring light weight design, high corrosion resistance, a wide range of material options, KOSCN pneumatic actuators are adaptive to most corrosive media or harsh environments application.
Contact Us
---
Features
PPGF full plastic housing
Quick opening or closure within 0.5-3s
Different limit switches and multifunctional regulating modules optional
Different corrosion resistance levels optional
Mounting: F04, F05, or F07
Easy operation and maintenance
Full plastic housing design for aesthetic appearance and high corrosion resistance
Connection ports for installation of position feedback switch and positioner expansion modules
Pilot operated solenoid valve mounting base for quick installation
Integrated optical position feedback with easy observation
Excellent lubrication performance and maintenance free
Mounting is compliance with international ISO standard
Outstanding safety
Injection-molded valve with insert molding nuts locked inside ensures installation strength
Actuator designed with over pressure protection to ensure safety
Corrosion-free and leakproof configuration
---
Application
Plastic ball valves
Plastic butterfly valves
Metal ball valves
Metal butterfly valves
Building A2, Hengli Industrial Park, Tongde, Baolong Sub-District, Longgang District, Shenzhen City, Guangdong Province, China
Shengzhou Zhang
KOSCN is a professional manufacturer of flow control products. Our product range includes plastic valves, pneumatic actuators, pressure sensors and piping systems. We offer industrial plastic valves in various sizes, of different materials and for different pressure ranges, guaranteeing the right valve for any piping system. Manual, pneumatic, or electric actuators for valves are optional to best fit your application requirements.
Our plastic valves and piping systems are good low-cost solutions for flow control needs in various applications, including waste/wastewater disposal, chemical processing, metallurgy, landfill leachate processing, integrated circuit manufacturing, semiconductor manufacturing, glass panel processing, food and beverage, paper making, power industry, bio pharmacy and more.
KOSCN has obtained multiple patents and is a national high-tech enterprise. We have professional teams for product design and development, manufacturing, mold production, injection molding and quality control. Our quality management system is in strict accordance with ISO9001, ISO140001, ISO45001 to ensure the excellent reliability and outstanding durability of products.