Industrial Valve Solutions for PV Industry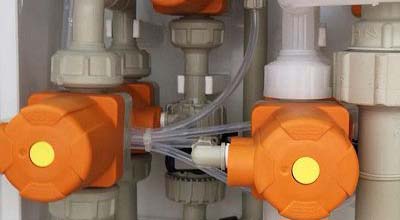 Silicon raw materials play a decisive factor in the process of solar energy conversion. KOSCN plastic valves are widely used in the piping system for PV panels production and applications include purification of silicon raw materials, cleaning of silicon wafers, cleaning of N-type solar cells, etching process, etc.
For instance, KOSCN provides a complete valve solution for the etching process: corrosive chemicals like HF, HNO3, H2O2, NAOH, TMAH can be fed in by DV310 pneumatic diaphragm valve, water is supplied by MV300 pneumatic diaphragm valve, circulated solvent is transported by MV302 plastic pneumatic diaphragm valve and the waste liquid is discharged through BV202 pneumatic ball valve. DV310 pneumatic diaphragm valve also plays an important role in the front end of diffusion furnace which can accommodate high level of metal ion releasing.
Application examples
---
Other applications